Immersive & Collaborative : challenges, usages and prospective
Wesnesday 12th of June, 10:15 am-10:30am (Jean Touton's amphitheater)
Abstract
Christophe Chartier, Immersion CEO, will welcome the attendees of this 4th edition of it3D Summit and will present an overview of immersive and collaborative 3D technologies, with aforward-looking eye and particularly focused on remote collaboration, in order to understand the basic and necessary concepts for the continuation of the program.
Speaker
Mr. Christophe Chartier, CEO at Immersion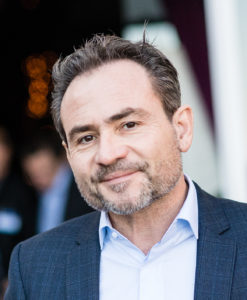 Self-taught fascinated by Virtual Reality, Christophe Chartier is the Immersion's CEO and co-founder. Immersion was founded in 1994, after reading "La Réalité Virtuelle" ("The Virtual Reality"), a reference book in the field. The virtual reality industrial applications were still embryonic but Christophe started this adventure by being convinced that these solutions were the precursor of a new paradigm in numerical data exploitation within companies.
Visionary entrepreneur, Christophe is involved in the national numerical ecosystem as a member of the AFRV (French Virtual Reality Association) and expert for the French Government as part of the program New Industrial France to define the axes of Augmented Reality strategic developments. Also involved regionally, he is regularly requested to represent the French Tech Bordeaux Métropole Numérique, internationally during the French Touch Conference in New-York as well as locally within the Council of Entrepreneurs gathered around the Mayor of Bordeaux.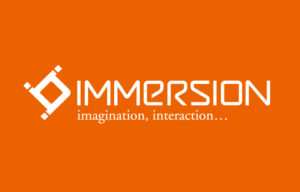 Creating 3D experiences since 1994, Immersion is the European leader in virtual reality, augmented reality and collaborative solutions for the industry and research. As a pioneer, Immersion has built its know-how around customized virtual reality solutions and is now developing its own innovative products through the «3i by immersion» solutions and the collaborative platform Shariiing. The company's solutions are at the crossroads of immersive 3D, collaborative technologies, and decision-making tools. Co-founded and managed by Christophe Chartier, Immersion proved its abilities by answering the needs of major French companies listed on the most important Paris stock exchange, the CAC 40. In 2016, the company went public on the Alternext Paris stock exchange and evolved through a strategy aiming to reach a new market, that of SMEs and Middle-sized companies, in order to support them through their digital transformation. With its 45 employees, Immersion designs and manufactures all its products in France and more specifically in the region of Nouvelle-Aquitaine. The company responsible for more than 500 installations worldwide and a relied on a turnover of 8 million € in 2018.
"Digital transformation" Keynote
Gilles Babinet,  serial entrepreneur and "Digital Champion," in other words in charge of the France's digital stakes in dealing with the European Commission.
Thursday 13th of June, 11:30am-12:30pm (Jean Touton's Amphitheater)
Abstract
This year, we will have the great pleasure and honnor of welcoming Gilles Babinet.
In addition to his role as Digital Champion, Gilles Babinet is also a renowned lecturer and author of numerous works on digital.
He will share his vision and reflections with us in the aera of digital transformation; a new era where everything accelerates! And even if things move quickly, Gilles Babinet invites us to take the train in order to be the actors.
Speaker
M Gilles Babinet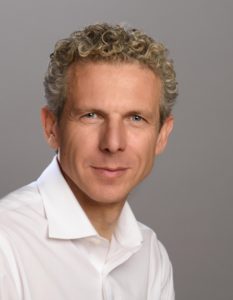 Entrepreneur from the age of 22, Gilles Babinet is the founder of many companies in fields as diverse as consulting (Absolut), building (Escalade Industrie), mobile music (Musiwave, sold for 139 million euros), Co-creation (Eyeka) or decision-making tools (CaptainDash).
Today, Gilles Babinet is a member of the board of EY, of the EDF Foundation but his expertise in digital is also recognized in France and abroad, which leads him to be appointed Vice-President of the National Digital Council (June 2018) and Digital Champion at the European Commission (June 2012) where he represents the interests of French digital..
He also shares his thoughts as a prolific contributor to the Institut Montaigne, associate professor at Sciences Po, and author of works on digital: "Big data, thinking man and the world differently", "The Digital Age, a new age of humanity"- the last of them being "digital transformation, the advent of platforms"
Opening Keynote: "The Good Company"
Thierry Pedeloup, CEO of Ethics Group
Wesnesday 12th of June, 10:30 am -11:30am (Jean Touton's amphitheater)
Abstract
(to come)
Speaker
M. Thierry Pedeloup, CEO of Ethics Group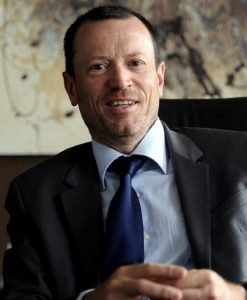 Thierry Pedeloup, CEO of Ethics Group has an ambition: to play a very active role in societal development, territorial development and economic development by inspiring, bringing together and supporting organizations that want to transform themselves by betting on collective intelligence and benevolence. He promotes a more participatory and cooperative way of doing business by joining The Good Company movement.

ETHICS Group is an innovative and committed company that brings solutions to its clients whose goal is to evolve and transform. Founded in Blagnac in 2007, it is today composed of 5 brands B&T ASSOCIES, MERLANE, MOTIVE, PARMENION and DIGISMART. Their mission is to inspire, bring together, and support their partners on the path to success, guided by their "The Good Company" philosophy. The Good Company is an iconic movement that promotes agile, high-performance organization where life is great. He embodies nonconformism, the true will to propose a harmonious model of more cooperative functioning, betting on collective intelligence and benevolence. Based in Toulouse, Bordeaux and Paris, as well as in Germany and England, all of the Tixies form a synergy of skills: it is above all a team of solidarity and emphatic that applies to it-even the ideas she defends and shares her values and culture with her partners with humility and simplicity. In addition, Ethics Group actively and voluntarily participates in the socio-economic life of its territory with its know-how. Their commitment is exercised in many ways in their services, in cooperation with young companies, in their solidarity and associative actions…
"The Future of Game Engines for everything that isn't A Game"
Doug Wolff, Business Development Manager for Manufacturing across EMEA for Unreal Engine Enterprise.
Wednesday the 12th of June, 6:15PM-7:15PM (Jean Touton's Amphitheater)
Abstract
Over the past 3 years, the enterprise team for Unreal Engine at Epic Games have witnessed and supported the impressive growth of non-game industries embracing game technology to deliver creative, innovative projects.
Doug will be sharing some of these interesting stories, and will highlight how they are bringing us steps closer to the future.
Speaker
Mr. Doug Wolff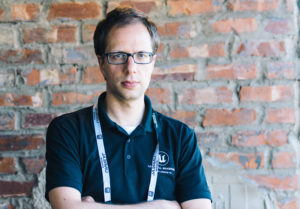 Doug leads Business Development for Manufacturing across EMEA for Unreal Engine Enterprise.
What that really means is he helps people who want to use Unreal Engine 4 for their businesses get projects off the ground.
Doug has worked in video games for over 15 years, most of those in core game development, and has undertaken the journey into the Enterprise sector over the last 5.
Discover the testimonials of industrial players using immersive and collaborative 3D solutions on a daily basis. What are their objectives? With which methodologies and how do they obtain concrete results to improve the performance of their company?
Discover the testimonials of industrial actors using immersive and collaborative 3D solutions on a daily basis, understand their aims, methodology and the way they obtain concrete results improving the performance of their company.
This year we will focus more specifically on the "digital transformation" through testimonials and feedback from users, to address the following challenges:
Adoption and ownership: what are the keys to success in gaining user buy-in? What are the good practices and mistakes not to commit?

Driving change: what methods are effective in countering reluctance to change and supporting users in implementing new processes and methods

Training: train through virtual and augmented reality, but also train to use these new solutions and make them tools of everyday life

Dissemination and deployment: how to lift the locks in the organization to consider a massive use in the company? And to ensure that the use of immersive and collaborative 3D does not remain in the state of PoC (Proof of Concept) or restricted to an isolated team.
Round tables with the purpose of sharing different approaches and perspectives, discussing the differences amongst use cases and or points of view based on each contributor's field, and comparing the advantages of various methods.
"Inspirience the 3D" days are an opportunity to test technological solutions and innovative "life-size" uses. it3D Summit and its partners will open a 750m² showroom and invite you to discover:
3D visualization and interaction devices and systems
Immersive and collaborative 3D working environments
New tools tested and validated by our experts
Demonstrations that take your breath away!
You can immerse yourself, test, imagine, transpose new applications for your business thanks to the demonstrations put in place in the Big Hall, discuss the strengths and weaknesses of different solutions according to the chosen uses.
Exhibitors and technological partners
For the inexperienced users
Your company wants to start its digital transformation and you are in charge of implementing this transformation?
You are certainly wondering how to adopt these new methods and the implementation of these new tools, with all the financial and human problems, etc…What to start with?
These workshops are an opportunity to ask your questions to experts who listen to your projects.
For the experts
Your company has already adopted AR, VR and RM for several years.
Convinced of the ROI and ROE obtained, you are integrating these technologies into the different service levels of your industry and you want to deepen certain aspects, we offer workshops to help you respond to them.
The workshops are intended to be a time of proactive exchanges in small committees.